1. Alt+Click the audio portion of the clip to select just the audio.
2. Go to Clip>Audio Options>Render and Replace.
Premiere will render just the new audio portion that resulted from setting a new IN (or any other edit) and promptly display the waveform.
If you do a copy/paste and the audio waveforms disappear, you can get them back by parking the CTI somewhere over the affected clip in the timeline and doing a match frame operation to load the source clip in the Source Monitor.
Also check your Scratch Disk I had a bad path and so I fixed it and now no problems.
So yeah, in order for nested sequences to display the waveforms, Premiere needs to generate peak audio files from the flattened composite of the audio. For that, it definitely needs to render out the audio of the nested sequence first.

So yes, as you guessed, this is a fallout of the fact that CS3 doesn't force you to automatically render the nested audio anymore, which was a popular complaint. The side effect is that until that render happens, you won't see the waveform of the composited audio.

The only alternative I foresee would require Premiere to support background rendering of the audio, but this requires serious re-plumbing. Background rendering is a popular feature though - if it becomes a supported feature in a future CS version, this fix would become feasible.
Be sure you can see all of your audio tracks. It is possible the one you're looking for has scrolled out of view.
There was a setting in the Matrox area of set up. Both pek and some other box was not checked. I checked them and restarted Premiere and BINGO the waveform is back.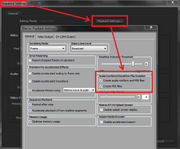 This for Matrox hardware users
Sequence > Sequence Setting > Playback setting > Audio conform/Waveform File Creation
then check those 2 box and restart Premire. Wave form is come back ^_^b
Hey, i found out, if you enable the RENDER AUDIO WITH VIDEO option, the next time you hit Render, i will display. (RENDER AUDIO WITH under Premiere / Settings / General - and then the last line)
Greetings